As we like to be dynamic, creative and constantly inspired, there is no fixed menu.

For private bookings the possibilities for the menu are almost endless. We can create an entirely customized menu with your favorite cuisines represented. From wok dishes to all sorts of stews, sauces, soups, snacks and finger foods. Please contact us for more information.

For the festival season the menu also varies, but we do have some signature dishes:



Thai coconut curry
With this flavorful dish we have fed thousands of people during festival season, when people constantly came back for more. The curry consists of a completely homemade and traditional green curry paste, high quality coconut cream and fresh vegetables. It's served with fluffy jasmine rice and an amazing carrot-ginger-peanut salad.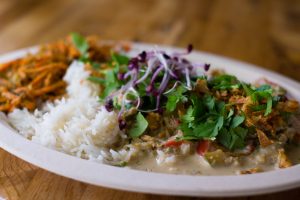 Moroccan stew with spiced couscous
fragrant couscous with warm spices combined with pumpkin, almonds and apricots in tomato sauce. Served with salad and olive-walnut tapenade.
Hazelnut-Lentil burger
A very tasty burger flavored with Ethiopian berbere spices. We serve our burgers on fresh Turkish bread, with pickles, crunchy vegetables, fried onions, homemade BBQ sauce and cashew mayo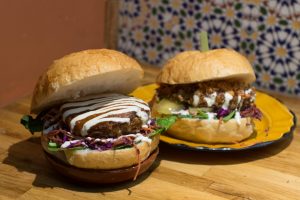 Tacos
The best tacos are soft, fresh and entirely made of cornflour. We make our tacos the traditional Mexican way, freshly pressed on the spot from our own cornflour dough. They are stuffed with a flavorful, spiced walnut and lentil mixture, fresh salsa and cashew sour cream.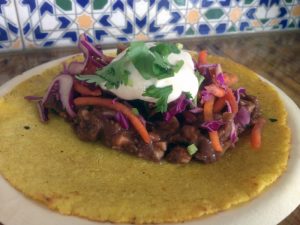 Sushi rolls
Our sushi rolls are made with all colors of raw vegetables and sesame seeds. We serve our rolls with a delicious orange-miso dip.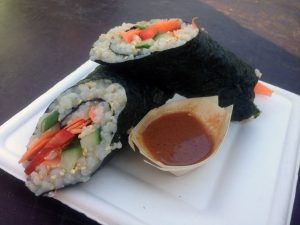 Empanadas
Inspired by Colombian and Mexican cuisine, Madame created these original
cornflour empanadas. A fried Colombian savory pastry, stuffed with
Mexican spiced lentils. These crunchy snacks are served with a fresh
tomato salsa.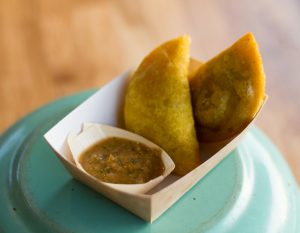 Miso soup
A traditional Japanese soup with shiitake mushrooms, wakame seaweed and fresh spring onions.
Lentil soup with sweet potato and/ or pumpkin
Turkish style with cumin and mint, or Asian style with coconut and kaffir lime leaves.
Spring rolls
Raw rainbow vegetables rolled in rice paper and served with a coconut-peanut sauce.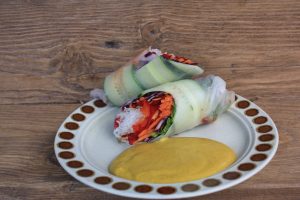 Colombian Hot Chocolate
A rich, dark chocolate drink that often makes people come back for refills. Sweetened with panela/jaggery (unrefined sugarcane juice) and spiced with cinnamon and cloves.
Smoothies
A variety of fruits, spices and plant based milk blended together in the blenderbike.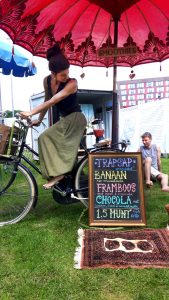 Besides serving healthy and nutritious meals, Madame has a bit of a sweet tooth as well and loves to make cookies, pies, cakes and other sweets. There is usually something for dessert.